Looking for an Expert Auto Service Provider?
If you're looking for auto service, you've come to the right place. At Auto Precision Repair, we specialize in all things automotive repair. From scheduled maintenance to major repairs, we can handle it all. We use the latest tools and techniques to ensure that your car is repaired to the highest standards. Plus, we're always happy to answer any questions you may have about your car's repair. So don't hesitate to give us a call today. We look forward to serving you. Thank you for choosing Auto Precision Repair!
Expert Auto Service in Thousand Oaks, California
At Auto Precision Repair, we understand the importance of regular auto service and maintenance for your vehicle's longevity and performance. Our experienced, ASE-certified team in Thousand Oaks, CA, is dedicated to providing high-quality auto service, ensuring that your car remains in peak condition.
Top-notch Auto Service and Repair Solutions for Your Vehicle
At Auto Precision Repair in Thousand Oaks, CA, our experienced technicians specialize in working on a range of European and Japanese car brands, including Mercedes-Benz, BMW, Audi, Porsche, Volkswagen, Infiniti, Lexus, Toyota, Honda, and Nissan. With our expertise and passion for these renowned automotive brands, you can trust that your vehicle will receive the expert care it deserves.
Brake Repair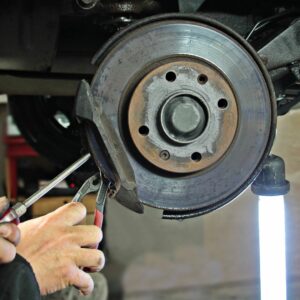 When it comes to safety, your brakes are of utmost importance. Our brake repair services include pad and rotor replacement, brake fluid flushes, and more. If you notice squeaking, grinding, or a soft brake pedal, it's time to bring your vehicle to our auto service center in Thousand Oaks, CA, for a thorough inspection.
Key benefits of our brake repair services:
Improved safety
Longer brake system lifespan
Better driving experience
Oil Change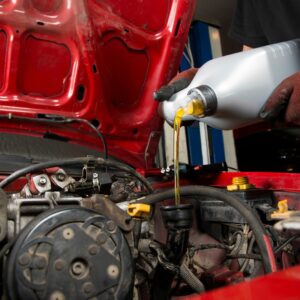 Regular oil changes are crucial for maintaining your vehicle's engine health. At Auto Precision Repair, we offer various oil types, including conventional, synthetic, and high-mileage options. Our technicians will help you determine the recommended oil change intervals for your specific vehicle, ensuring optimal performance.
Why choose us for your oil change needs:
Fast and efficient service
High-quality oil options
Affordable prices
Transmission Repair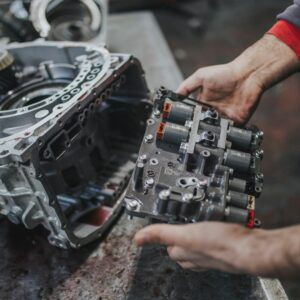 A well-functioning transmission is essential for a smooth driving experience. Our auto service center in Thousand Oaks, CA, specializes in transmission repair, addressing common issues like fluid leaks, slipping gears, and strange noises. Don't let a faulty transmission ruin your drive – visit us for expert diagnosis and repair.
What sets our transmission repair apart:
Skilled technicians with years of experience
State-of-the-art diagnostic equipment
Transparent pricing and excellent customer service
Vehicle Inspection
Our comprehensive vehicle inspection process covers everything from your engine to your exhaust system. Regular inspections help identify potential issues early, saving you time and money in the long run. Trust our skilled technicians to thoroughly examine your vehicle and provide recommendations based on their findings.
Benefits of our vehicle inspection service:
Early detection of potential problems
Improved safety and performance
Peace of mind on the road
Preventative Maintenance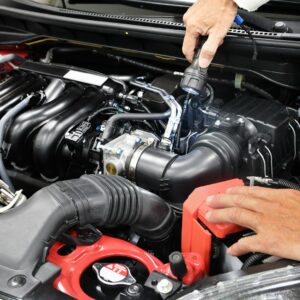 Preventative maintenance services, such as fluid checks, filter replacements, and tire rotations, are crucial for keeping your vehicle running smoothly. At Auto Precision Repair in Thousand Oaks, CA, our team ensures that your car receives the proper care it needs to minimize the risk of costly repairs down the road.
Why choose our preventative maintenance services:
Prolonged vehicle life
Reduced risk of breakdowns
Better fuel efficiency
Engine Repair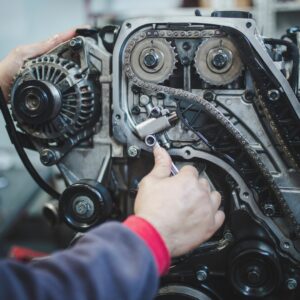 Engine problems can be frustrating and expensive if left unaddressed. Our experienced technicians offer engine repair services for various issues, including overheating, leaks, and strange noises. Trust Auto Precision Repair in Thousand Oaks, CA, to get your vehicle back on the road quickly and efficiently.
Advantages of our engine repair services:
Skilled professionals with years of experience
State-of-the-art diagnostic tools
Competitive pricing and exceptional customer service
Expertise in European and Japanese Vehicle Care
Precision and knowledge tailored to your vehicle's needs
Dedication to Automotive Excellence
At Auto Precision Repair, our commitment to automotive excellence has led us to specialize in servicing and repairing European and Japanese vehicles. We understand the sophisticated engineering, innovative technology, and craftsmanship that set these vehicles apart. Our expert technicians have the skills and knowledge to provide top-notch auto service and auto repair, ensuring your vehicle performs at its best.
European Vehicles: Mastering the Art of Luxury and Performance
Our team of experienced professionals excels in handling the unique needs of European vehicles, including luxury brands such as Mercedes Benz, BMW, Audi, and Volkswagen. We stay up-to-date with the latest advancements in European automotive technology and employ state-of-the-art diagnostic tools to accurately identify and resolve issues, providing outstanding auto service and auto repair for your prized possessions.
Japanese Vehicles: Embracing Reliability and Innovation
Japanese vehicles are renowned for their reliability, fuel efficiency, and cutting-edge technology. At Auto Precision Repair, we specialize in servicing and repairing top brands like Toyota, Honda, Nissan, and Subaru. Our technicians are well-versed in the nuances of Japanese vehicles, ensuring your car receives the highest quality auto service and auto repair.
Comprehensive Maintenance and Repair Solutions
Routine maintenance and targeted repairs are essential to maintaining the optimal performance of European and Japanese vehicles. At Auto Precision Repair, we offer a wide range of auto services and repairs, including oil changes, brake inspections, exhaust system repairs, and advanced electronic diagnostics. Our expertise in European and Japanese vehicles guarantees that your car is in the best hands.
Success Stories and Proven Expertise
We take pride in our successful track record working with European and Japanese vehicles. Our satisfied clients are a testament to our expertise and dedication to auto service and auto repair for these distinct brands. Discover for yourself the difference that Auto Precision Repair can make in the performance and longevity of your vehicle.
Gallery
Auto Service for the Modern Driver: Streamlining Car Maintenance
In our high-velocity world of today, individuals are consistently in motion. Therefore, possessing a dependable car is vital to keeping pace with the strenuous demands of everyday life. But who has extra time on their hands for tending to their automobile? That's where auto service comes in! Here's why auto servicing is more essential now than ever before for modern drivers.
Time-saving: In the past, taking your car to a mechanic meant a whole day out of your schedule. But with the advances in technology and efficiency, many auto services can now be completed in a matter of hours, allowing you to get back on the road faster.
Convenience: Nowadays, it's easier than ever to book an appointment at your local car service center. Most offer convenient online scheduling that allows you to select the best time for your needs. Plus, some businesses even provide pick-up and drop-off services so you don't have to leave the comfort of home!
Peace of mind: Routine auto maintenance is essential to prevent minor issues from becoming costly problems in the future. Investing a bit of time and money now can save you both down the line, not to mention give you the assurance that your car will run safely and smoothly for years ahead.
Improved fuel efficiency: Regular maintenance, such as oil changes and tire rotations, can improve your car's fuel efficiency, saving you money on gas and reducing your carbon footprint.
Increased safety: To ensure that you and your passengers remain safe on the road, it is vital to frequently service your vehicle so any potential safety issues can be identified and fixed. This maintenance includes examining brakes, lights, as well as other essential security components.
In conclusion, auto service is more important than ever for modern drivers. With the convenience, peace of mind, improved fuel efficiency, and increased safety it offers, it's a must for anyone looking to keep their car in top shape. So, schedule your next appointment today and enjoy the benefits of a well-maintained car!
Smooth and Safe Driving with Regular Auto Service
Testimonials
Nilda C. Abramowitz
2022-08-06
The fact that they offer a complete line of brakes and brake repair services is what makes Auto Precision Repair the brake service leader in Los Angeles. They performed a brake test after they finished modifying and repairing the brakes. By far, the best quality break repair service.
When I needed to find a mechanic, I went to the only place I had ever been, which is Auto Precision Repair. They were amazing and very patient with me, see I like to get a lot of modifications done to my car, lets just say I'm into that sorta thing.So I'm here so often that all I can say is good things, they've never let me down. I highly recommend taking your car to this mechanic, especially if you live in Thousand Oaks.
They'll conduct a detailed vehicle inspection by looking inside, outside, under the hood, and under the vehicle, then provide you with a written report and keep a copy for their records. After the vehicle inspection and all the issues fixed, I now have my vehicle fit to use again.
Emilia Nikitina
2022-07-01
All of these different types of auto shops don't compare to this one, they had great customer service and were very talented. Now anytime I have a repair needed for my car, big or small I go here, they are super honest and very straight forward. They always help me with the best route to take not only for my car but financially. Definitely made some new friends here.
Samuel A. Holmes Holme
2022-06-30
Auto Precision Repair gave us an affordable engine repair that was completely hassle-free and done with the utmost precision. Recognizing your good work in your area is one way to get more of it. So, for the big jobs, and you want to be worry free, take your car to this auto service shop!
Christina Madigan
2022-06-27
Great service!
This is my go-to garage for both auto repair and maintenance. Their costs are fair, and the auto repair professionals give additional assurance because they are licensed to work in both local auto repair shops and car dealerships. I'm sure I'll keep working with this auto mechanic shop.
Marcelo is Mercedes certified and really knows the ins and outs of Mercedes cars, plus many other car types, Toyota,Lexus, etc. I have brought my 1995 320E convertible to him for several repairs. An old oil leak was the first, and it was obvious he knew everything about my car. So I brought it back for the engine light, which turned out to just be the sensor switch and I was in and out in an hr. This is the only place I go to now. He is quick, fair and incredibly fast. Marcello goes above and beyond to be helpful, has a heart and he is handsome too. I feel just as confident with his partner Emilio who always greets me with a smile. If you want to hear singing and laughter while sitting in the clean waiting room, this is a visit well made and money well spent. 👏👏👌👌👍😁
isaac martinez
2020-08-23
First thing, I let it slip that I had a certain amount to spend and they kept way lower then that amount. Very Honest.
CONTACT US
Opening hours
Monday – Friday: 8 am – 5 pm, Saturday – Sunday: Closed
Auto Precision Repair
3121 Thousand Oaks Blvd #4, Thousand Oaks, CA 91362
55C8+48 Thousand Oaks, California
(805) 379-9900