Ever feel like keeping your car in tip-top shape is a full-time gig? You're not alone. I'm with you, and so is the crew at Auto Precision Repair. We're all about making car maintenance less of a chore and more of a chat-over-coffee kind of deal. So, grab a cup and let's break it down, mechanic style.
First Thing's First: Know Your Ride
Your car is like a buddy. You've got to know what makes it tick the engine, the brakes, that little shimmy it does when you hit 60 mph. Trust me, a little know-how goes a long way. It's about being on a first-name basis with the basics so you can spot trouble when it starts whispering.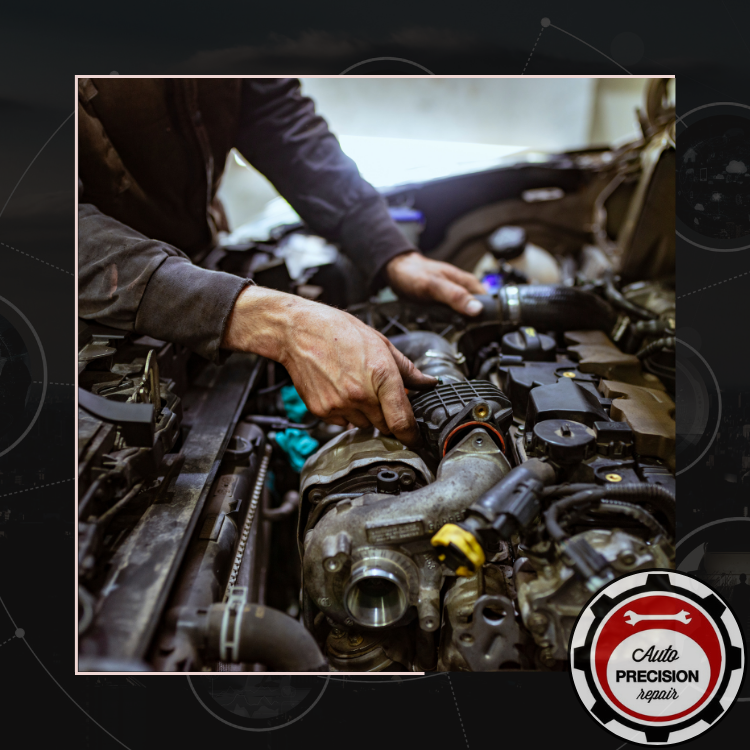 Regular Check-Ups: They're Not Just for People
Oil changes and tire checks are like your car's regular health check-ups. Skip 'em, and you're asking for a grumpy engine and tires that throw a fit. You wouldn't ignore a cough that won't quit, right? So don't ignore your car's need for a little TLC. That's our bread and butter at Auto Precision Repair keeping your ride healthy with regular tune-ups.
The Heart of the Matter: Your Engine
Think of your engine as the heart of your car. It needs to stay fit. Keeping it purring means watching oil levels, swapping out filters, and making sure it doesn't overheat. We at Auto Precision Repair treat engine checks like a cardio workout for your car essential and non-negotiable.
Electric Avenue: The Pulse of Your Car
Today's cars are rolling tech gadgets. One loose wire and things can go haywire like, 'my car won't start' haywire. Batteries, starters, and all those high-tech bits need love too. We've got the gear and the know-how to keep the electrons flowing right where they should.
Tires: Your Car's Sneakers
Good tires mean a good grip on the road. Think of them as your car's sneakers. If they're worn out or misaligned, you're not going anywhere fast. At Auto Precision Repair, we keep your tires in track-star shape so you can corner like you're on rails and stop on a dime.
Hit the Brakes: Your Safety Net
Brakes are your car's big red panic button; they need to work when you need them most. Worn pads or leaky fluids are like asking for an adrenaline rush in rush hour traffic. We get down to the nitty-gritty so when you hit the brakes, your car doesn't hit anything else.
Smooth Moves: Suspension and Steering
Unless you like your coffee in your lap instead of your mug, keep your suspension and steering in check. Potholes and bumps? They're the enemies. We're the guardians at Auto Precision Repair, making sure your ride is smoother than a jazz solo.
Your Car's Pit Crew: Auto Precision Repair
We're like your neighborhood pit crew, always ready to roll up our sleeves. From diagnostics to tire changes, we keep things running as smooth as butter. And we're all about giving you the straight talk on what your car needs, no bafflegab, just good old-fashioned service.
So, remember, whether you're a gearhead or you can't tell a spark plug from a lug nut, Auto Precision Repair is here to help. We'll keep your wheels turning and the good times rolling. Because in the end, a well-cared-for car means one less headache for you and that's what we're all about.