Hey there fellow car lovers! This is Mike who works at Auto Precision Repair – your local mechanic who is friendly and helpful. I've been around the block and in cars for long enough to observe the good of the bad and even the downright possible in automobile troubles. Let me offer some tips to keep your vehicle in the best possible shape.
Don't Skimp on the Maintenance
Trust me, I understand it. The pace of life is always hectic and the maintenance of your vehicle might not be high on your priorities list. However, let me assure that regular inspections are the key to ensure your vehicle lasts. You wouldn't miss an appointment with a doctor, would you? Consider the oil change in your car as well as brake inspections as a form of check-up. They're crucial to keeping the vehicle running efficiently.
Quality Parts are Non-Negotiable
At Auto Precision Repair, we've encountered all sorts of components that have come through our doors. It's not enough to stress how crucial it is to select quality product parts, whether OEM or premium aftermarket items. It might cost you slightly more initially however your car will be grateful with less trips to the garage.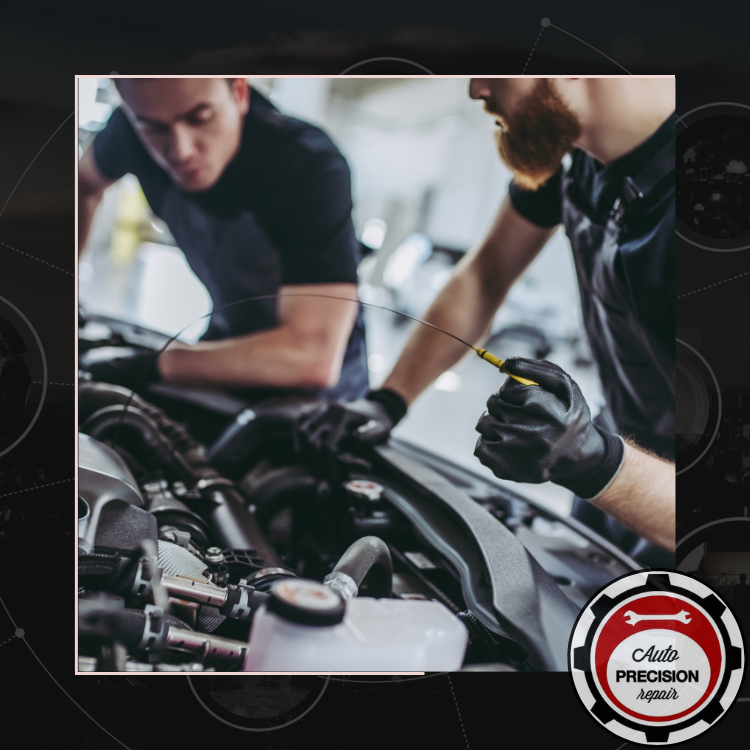 That Dashboard Light Isn't Just for Show
If your dashboard appears to be an ornament and you notice that your dashboard is looking like a Christmas tree, don't turn on the radio and hope that it will go away. The lights on your car are the way to say, "Hey, I need a little TLC over here!" With the advanced diagnostic equipment that we have today to identify the problem and return you to your way before you even realize that it's there.
Tires: Your Car's Shoes
Have you ever thought about running a marathon wearing flip-flops? It's not enjoyable. This is the same for cars with poor tires. Maintain them in good shape, inflated, and rotated. It's more than just keeping them in good shape but also about security and ensuring that you're not wasting fuel (and money).
Cleanliness is Next to Godliness
Who doesn't like shiny cars? It's not only about appearances. Washing your vehicle, particularly after it's been bathed in road salt or bombed by birds, can help you avoid the rust and other contaminants which can destroy your car.
Your Mechanic Should Be Your BFF
Here at Auto Precision Repair, we are proud of our certifications and experience. When you take your vehicle to us for repair you're ensuring that the job is done correctly every time. We've got the right equipment and the appropriate expertise – and we're not simply stating this to blow our own trumpet.
The Devil's in the Details
Have you ever noticed a new sound or a twitch as you accelerate? Don't simply crank up the music and forget about it. These small signs could be warning signs for larger problems. We should catch them early to help you avoid hassle (and money!).
Know Thy Manual
The manual for your car isn't just a piece of writing that occupies space in your glove compartment. It's the most important guideline of what your car requires and how to use it. Follow this guideline and you'll be able to prepare your vehicle to live a long and well-balanced road life.
Questions are Free – Ask Away!
Every question is important or unimportant. We're focused on honest and transparent communication in Auto Precision Repair. If you don't understand something then ask. Our goal is to make sure you are assured about the quality of service you're receiving – because driving should be enjoyable and not difficult.
Wrapping It Up
There you go Mike's tried and tested tips for keeping your car in top form. Remember that At Auto Precision Repair, we're dedicated to giving your car the attention it deserves. Visit us, give us the number or a wave as you pass by. We're here to ensure you and your vehicle are prepared for whatever road may be ahead of you.
My Go-To Tips for Keeping Your Car in Top Shape: Advice from an Auto Precision Repair